Mission

We are a global innovative learning institution that partners with families in providing transformative education to help build holistically developed Christ-like influencers.

Vision

Through global innovative education, we envision our learners to be holistically developed, Christ-like servant-leaders who love God and others, with a commitment to make a positive difference in the world.
EDUCATIONAL PHILOSOPHY
The members of the school board, administrators, teachers, and staff of Life Academy International (LAI) adhere to the following components as part of LAI's Educational Philosophy:
BIBLICAL WORLDVIEW
The Bible is God's Word, the written Word, and our manual for living. It is the complete book that guides and educates us to go through life successfully according to the original design of our Creator. The Apostle Paul explains in 2 Timothy 3:16-17 that:
"All Scripture is inspired by God and profitable for teaching, for reproof, for correction, for training in righteousness; so that the man of God may be adequate, equipped for every good work."
A. Genesis 1:28
"God blessed them; and God said to them, 'Be fruitful and multiply, and fill the earth, and subdue it; and rule over the fish of the sea and over the birds of the sky and over every living thing that moves on the earth.'"
B. Creation 
God created man in His own image. This means that man reflects God in all qualities of his personality including, but not limited to, moral, intellectual and emotional capacities, aesthetic sensibility, and social inclinations.
C. Fall
Man disobeyed God, and God's Image in man was destroyed. Voluntary fellowship with Him was the reason God created man. This is not a forced fellowship. Through Satan's deception, man chose to go against God, therefore rebelling against God. This fall of man brought all of God's creation under the dominion of sin.
D. Redemption
God has sent Jesus Christ, His only begotten son, to redeem mankind by His death on the cross. Jesus Christ is our Lord and Savior, the living Word. All things were created by Him, through Him and for Him. His incarnation serves as our role model for our being, learning, teaching, leading, and living.
E. Discipleship
With God's redemptive plan also comes the sanctification of those called for His purpose. As such, the classroom is also regarded as a means for teachers to disciple learners who are seen as future disciplers of the next generation. In discipleship, teachers (who act as second parents, role models, motivators, and facilitators of learning) are given the chance to integrate biblical teaching in and out of their classrooms through their daily lessons and activities for learners to have a deeper knowledge of God and his teachings.
F. Evangelism
Christian schools are extensions of the home and the church. Since God has commanded these two institutions in the Scriptures to educate, Life Academy International (LAI) has a Biblical mandate to do the same. As an extension of the church, we have the responsibility, not to just educate, but to evangelize as well. This is evident in the Great Commission (Matthew 28:19):
"Go therefore and make disciples of all the nations, baptizing them in the name of the Father and the Son and the Holy Spirit, teaching them to observe all that I commanded you; and lo, I am with you always, even to the end of the age."
EXPERIENTIAL
The best pedagogy is a combination of directed and collaborative learning. The child has to be directed in his/her learning at an early age, and be given more independence as the child matures and develops the foundational skills of independent learners. The child learns through active collaboration and leadership training, with the integration of Biblical principles and modern technology. Throughout this development, experiential learning like interactions, inquiry-based, and learning by doing techniques will be used.
FOUNDATIONAL
The school helps facilitate, provide opportunities for, and cooperates with the families in the teaching, training, and socialization of the child in a family-friendly and supportive environment in order to build the foundations for the child to become independent and self-directed in learning. Included in these foundations are skills in Numeracy, Literacy, Thinking, and Speaking.
HOLISTIC
The child/learner is uniquely gifted by God and possesses great potential and God-given purpose. He/she has to be holistically honed to assume responsibility for his/her own learning and become proactive contributors to the world.
Spiritual — We disciple and mentor students through discipleship groups and accountability partners, to love God and others, to grow towards Christ-likeness, and to develop a lifestyle of prayer, faithfulness, God-confidence, and God-dependence.

Mental — We develop students to become academic achievers and lifelong learners, and to have grit and resilience.

Physical — We develop students who take care of their overall well-being, who strive to be fit for Christ and be ready for service.

Character — Forming Christian character begins with helping students understand their need for salvation in Christ and submitting to His Lordship in their lives. One important virtue that the school desires to instill among its students is Christian self-government or the ability to govern oneself under God.

Family — Family is the primary socializing institution of the child, and the parents have the God- given responsibility of teaching and training them. Parents are the primary shaper of the child's future and the partners of the school in effecting learning of the child.
GROWTH MINDSET
Approaches to teaching and learning are made with a growth mindset, with the idea that intelligence and the ability to learn can be developed and not fixed. This enables our students to grow and become deeper learners. Teachers help each student grow and believe that all students can succeed by applying the concepts of "Not Yet", Work in Progress, Effort, and Intrinsic Motivation.
STATEMENT OF FAITH
We adopt the following Statement of Faith, as agreed upon by the "National Association of Evangelicals:"
We believe the Bible to be inspired, the only infallible, authoritative Word of God. 

We believe that there is one God, eternally existent in three persons: Father, Son, and Holy Spirit. 

We believe in the deity of our Lord Jesus Christ, in His virgin birth, in His sinless life, in His miracles, in His vicarious and atoning death through His shed blood, in His bodily resurrection, in His ascension to the right hand of the Father, and in His personal return in power and glory. 

We believe that for the salvation of the lost and sinful man, regeneration by the Holy Spirit is absolutely essential. 

We believe in the present ministry of the Holy Spirit by whose indwelling the Christian is enabled to live a godly life. 

We believe in the resurrection of both the saved and the lost — they who are saved unto the resurrection of life and they who are lost unto the resurrection of damnation. 

We believe in the spiritual unity of believers in our Lord Jesus Christ.
SCHOOL VERSE
And Jesus increased in wisdom and in stature and in favor with God and man.
– Luke 2:52
SCHOOL LOGO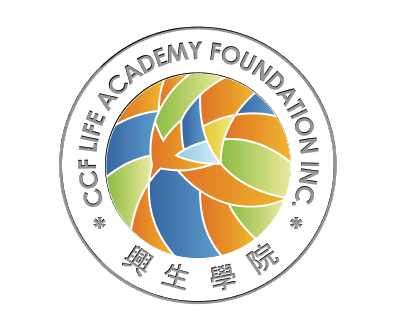 The Life Academy logo integrates the following elements:
The circle symbolizes continuity, harmony, and the cycle of life.
The shapes of different colors and different sizes within the circle represent various disciplines and areas of study.
The colors are indicative of life and transformation, and are assigned to each of the four school core values:

Yellow for light that shines to the world, symbol for happiness, energy, enlightenment, joy, and honor (Core value: Love)

Green for growth, life, stability, and maturity (Core value: Integrity)

Orange for warmth, vitality, and spiritual renewal (Core value: Faith)

Blue for life, water, and flow (Core value: Excellence)
The dove is symbolic of the Holy Spirit, change, and God's favor.

興⽣生學院 is the official name of the school in Chinese.

Together, these elements signify LAI's commitment to a well-rounded, high-quality, and transformative education that touches all facets of life.