Mission

We are a global innovative learning institution that partners with families in providing transformative education to help build holistically developed Christ-like influencers.

Vision

Through global innovative education, we envision our learners to be holistically developed, Christ-like servant-leaders who love God and others, with a commitment to make a positive difference in the world.
Philosophy of Education
The members of the school board, administrators, teachers and staff of Life Academy believe that:
Jesus Christ is our Lord and Savior, the living Word. All things

werecreated

by Him, through Him and for Him. His incarnation serves as our role model for our being, learning, teaching, leading and living. 

The Holy Spirit is the teacher, the counselor

and

the seal. He teaches all 

things,

and brings all things to remembrance all that has been learned. 

The Bible is God's word, the written Word, and our manual for living. It is the complete book that guides and educates us to go through life successfully according to the original design of our Creator. 

The family is the primary socializing institution of the child, and the parents have the God-given responsibility of teaching and training them. The parents are the primary shaper of the child's

future,

and the partners of the school in 

effecting

learning of the child.

The school helps facilitate, provide opportunities, and cooperates with the families in the teaching, training

and

socialization of the child in a

familyfriendly

 and supportive environment, in order to build the foundations for the child to become independent and self-directed in learning. 

The teachers are the learners' second parents, role models, motivators and facilitators of their learning. The teachers are positive influencers that encourage, challenge and guide the child to be better prepared in facing the different challenges of life. 

The child or learner is uniquely gifted by

God,

and possesses great potential and God-given purpose. He or she has to be honed to assume responsibility for his or her own learning and become proactive contributors to the world. 

The best pedagogy is a combination of directed and collaborative learning. The child has to be directed in his or her learning at

the early

age, and be given more independence as the child matures and develops the foundational skills of independent learners. The child learns through active collaboration and leadership training, with the integration of Biblical principles and modern technology. 
Statement of Faith
God

We believe that there is only one sovereign God, eternally existent in three Persons: Father, Son, and Holy Spirit. He is the independent Creator of the heavens and the universe; He is all-knowing, all-powerful, just, loving, completely truthful, and holy.

Cf. Genesis 1:1, 26, 27; Psalm 90:2; Matthew 28:19; 1 Peter 1:2; 2 Corinthians 13:14; Isaiah 6:3; Titus 1:2; John 3:16; 1 Chronicles 29:11-12

The Bible

We believe that the Bible (66 books: 39 Old Testament books and 27 New Testament books) is the Word of God — supernaturally inspired, inerrant, and infallible. It is our supreme authority in all matters of faith, doctrine, and conduct. We also affirm its sufficiency, clarity, and necessity for genuine Christian living.

Cf. 2 Timothy 3:16; 2 Peter 1:20-21; Psalms 119:105; Psalms 19:7-11; Proverbs 30:5

Salvation

We believe that salvation – with its forgiveness of sins,

impartation

of a new nature and eternal life – is a free gift from God. This gift is received when a person trusts in Jesus Christ to be his only Savior and Lord. It is given by God's grace and cannot be earned by man through good works, baptism, church membership or any other means.

Cf. Romans 6:23; Ephesians 2:8-9; John 14:6; John 1:12; Titus 3:5; Galatians 3:26; Romans 5:1

Baptism

We believe that water baptism by immersion is an act of obedience to Christ's command. It is a public confession of our personal faith in Jesus Christ. As Christ died for our sins, we were raised from death; we walk in newness of life with Him.

Cf. Matthew 28:19; Mark 1:9; Colossians 2:12; Romans 6:3-4

Jesus Christ

We believe that Jesus Christ in the flesh was both God and man, was conceived by the Holy Spirit, and was born of a virgin. He lived a sinless life. He was crucified and died to pay the penalty for our sins. By His blood, the Lord Jesus Christ made a perfect sacrifice for sin once and for all time.




He was raised from the dead on the third day. Later, He ascended to the Father's right hand where He reigns as the Head of the Church and intercedes for believers. We believe He is coming again, bodily and visibly, to the earth to set up His Kingdom.

Cf. Matthew 1:22-23; Isaiah 9:6; John 1:1-5,14; Hebrews 4:14-15; 1 Corinthians 15:3-4; Romans 1:3-4; Acts 1:9-11; 1 Timothy 6:14-15; Titus 2:13; Ephesians 1:22; Hebrews 7:25

Every Christian's Mission

We believe that it is God's will and command for every Christian to be actively engaged in telling others how to establish a personal relationship with God through faith in Jesus Christ and in

discipling

those who respond to the good news of salvation.

Cf. 2 Timothy 1:7-8, 4:2; 2 Corinthians 5:19-20; Matthew 28:19-20

The Holy Spirit

We believe that the Holy Spirit is God and possesses all divine attributes. He indwells all believers and baptizes them at the moment they trust in Jesus Christ to be their only Savior and Lord. He controls all true believers and empowers them to live the Christian life in response to their obedience, confession of sins, and submission to Him

Cf. Romans 8:9-11; 2 Corinthians 3:17; John 16:7-13; Acts 1:8; 1 Corinthians 3:16; 1 Corinthians 12:12; Ephesians 1:13; Galatians 5:25; Ephesians 5:18

Good Works

We believe that good works are not the means to salvation but the expected byproduct in the life of a true believer in Christ. The evidence of true salvation and true faith is repentance, good works, and changed lives. It is every believer's responsibility to pursue a life of good works through the power of the Holy Spirit

Cf. Ephesians 2:8-10; Galatians 6:9-10; Matthew 5:16; 1 Timothy 6:18
School Verse
And Jesus increased in wisdom and in stature and in favor with God and man.
– Luke 2:52
School Logo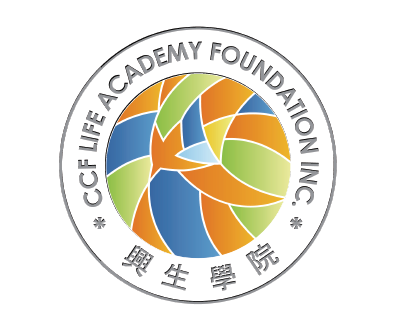 The Life Academy logo integrates three distinct elements:
I. The CIRCLE symbolizes continuity, harmony, and the cycyle of life.
II. The SHAPES of different colors and different sizes within the circle represent various disciplines and areas of study. The colors and their variants are indicative of life and transformation:
             – Orange for warmth, vitality, spiritual renewal
             – Green for growth, life, stability, maturity
            – Blue for life, water, flow
III. The DOVE is symbolic of the Holy, Spirit, change and God's favor.
       Together, these elements signify Life Academy's commitment to a well- rounded, high- quality, and transformative education that touches all facets of life.
       The gradient version of the logo (also known as the primary logo) works best for applications that allow for gradient executions, e.g. calling cards, stationary, signages, printed banners, print ads etc. The background must always be white or a transparent variation of white (no greater than 25% transparent). The logo is best surrounded by a quite square when place against a dark or colored background.
      The solid version of the logo (also known as the secondary logo) is for situational use where gradient colors cannot be adequately replicated, e.g. embroided badges.