Senior High School (IB Diploma Programme)
INCORPORATING IB DIPLOMA PROGRAMME INTO LIFE ACADEMY'S GOSPEL-CENTERED CORE
At Life Academy, our mission is clear: to nurture God-loving, inquiring, knowledgeable, and compassionate students. We achieve this by integrating Christian values into our curriculum, using the International Baccalaureate Diploma Program as a powerful tool to meet world-class teaching standards.
Discover how our programs seamlessly integrate these values into every aspect of our students' education.
UNLOCK YOUR CHILD'S POTENTIAL THROUGH THE IB DIPLOMA PROGRAMME
The IB Diploma Programme promotes open communication, respect, and understanding. It inspires students to become active, compassionate, and lifelong learners. Beyond academics, it nurtures their social, emotional, and physical well-being.
Life Academy is more than just education. We shape students into Christ-like, caring, responsible members of local, national, and global communities.
Allow LAI to help make your child a future changemaker.
THE LIFE ACADEMY (LAI) LEARNER PROFILE
INQUIRERS — LAI students search for God's truth and wisdom. We are lifelong learners. We keep our curiosity alive. We work individually and with others. We nurture our knowledge for inquiry and research.
KNOWLEDGEABLE — LAI students believe that all wisdom comes from God. We acquaint ourselves with issues that are locally and globally important. We search for understanding on the different branches of knowledge. 
THINKERS — LAI students think critically and creatively. We take action to solve complex problems. We strive to make the right decisions in life. 
COMMUNICATORS — LAI students have a message to proclaim — the Word of God. We speak with confidence and clarity using more than one language. We speak eloquently, and we listen well to know what other people have in mind. 
PRINCIPLED — LAI students walk and talk with integrity and honesty. We use the Word of God as the basis for our life actions. We strive to do what is right. We take responsibility for our failures and wrongdoings. 
OPEN-MINDED — LAI students respect all the people of the world. We see them the way God sees them — sheep without a shepherd. We respect our own culture and that of others — their language, status, beliefs, opinions, and choices. We see things in different perspectives. 
CARING — LAI students' caring attitude for people comes from hearts that have experienced the love of Christ. We possess a servant's heart committed to make a positive influence on the lives of other people. 
RISK-TAKERS — LAI students are good risk-managers. With prudence and careful preparation, we open ourselves to new ideas, opportunities, and challenges in life. We allow ourselves to grow and discover new things for ourselves and the world. 
BALANCED — LAI students lead a balanced life. We believe that our bodies are the temples of the Holy Spirit. We give thorough care to the physical, intellectual, emotional, and spiritual aspects of our bodies — to become total individuals. 
REFLECTIVE — LAI students are reflective thinkers. We meditate on the Word of God day and night. We examine the world around us, our own experiences, and our knowledge. We willingly make the necessary changes in life to become better individuals.
THE IB DIPLOMA PROGRAMME (IBDP)
The IBDP aims to increase access to the curriculum and engagement in learning for all students. Learning communities become more inclusive as they identify and remove barriers to learning and participation. Commitment to access and inclusion represents the IB learner profile in action. 
Informed by these values, an IBDP education: 
centers on learners;

develops effective approaches to teaching and learning; 

works within global contexts; and

explores significant content.
The IBDP is a balance between the desirability of a broad education and the need to allow some specialization. In all subjects, the emphasis is on the development of skills and learning how to learn, in addition to mastery of subject content. To achieve a broad and balanced programme, the student must choose one subject from each of these six groups: 
Group 1: Language and Literature 
The study of literature in the student's first language or the language of instruction of the school, including the study of world literature.
Group 2: Language Acquisition 
A second language other than the student's first language. We may offer English B. 
Group 3: Individuals and Societies 
Business Management (SL & HL), Psychology (SL & HL)
Group 4: Experimental Sciences 
Biology (SL & HL), Chemistry (SL & HL), Physics (SL & HL)
Group 5: Mathematics 
Mathematics: Applications and Interpretation (SL & HL), Mathematics: Analysis and Approaches (SL & HL)
Group 6: The Arts
Visual arts or a sixth subject option from Group 1 through 5.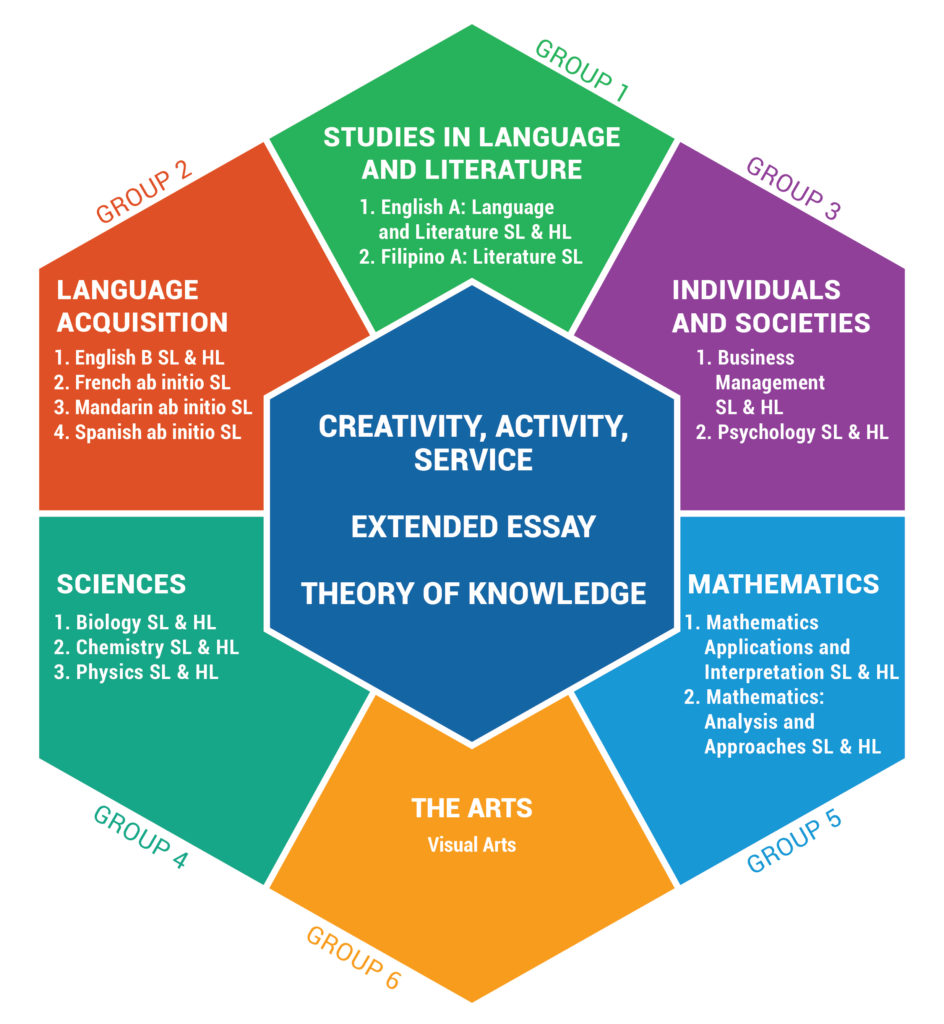 Students must choose three subjects for study in greater depth at Higher Level (HL) and three subjects for study in somewhat lesser depth at Standard Level (SL). In addition to the above subjects, the Diploma student must complete these three additional parts of the Diploma requirements:
Creativity, Activity, Service (CAS)
Creativity, Activity, Service (CAS) involves students in a range of activities alongside their academic studies throughout the Diploma Programme. The three strands of CAS, which are often interwoven with particular activities, are characterized as follows:
Creativity

: arts and other experiences that involve creative thinking

Activity

: physical exertion contributing to a healthy lifestyle, complementing work elsewhere in the Diploma Programme

Service

: an unpaid and voluntary exchange that has a learning benefit for the student
Students are able to use their extracurricular participation in sport, music, and drama productions to fulfill their CAS requirements.
Extended Essay (EE)
The student will undertake original research and write an Extended Essay (EE) of some 4,000 words. This project offers the opportunity to investigate a topic of special interest and acquaints students with the kind of independent research and writing skills expected at university.  
Theory of Knowledge (TOK)
This is an interdisciplinary course intended to stimulate critical reflection upon the knowledge and experience gained inside and outside the classroom. TOK challenges students to question the bases of knowledge, to be aware of subjective and ideological biases, and to develop a personal mode of thought based on analysis of evidence expressed in rational argument.
CHOOSING YOUR DIPLOMA PROGRAMME SUBJECTS
It is best to remember that students need to choose six subjects, one from each group, and that three of them must be at Higher Level and three at Standard Level. Take into account: 
Student interest and ability in the subject;  

Student commitment to studies and ability to work independently; and

Student university and career plans — ask the IB Coordinator.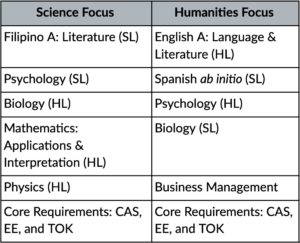 Subject selections are discussed during the subject selection process with the IBDP Coordinator and teachers. 
CONCLUSION
IB education is unique because of its rigorous academic and personal standards. The IB programmes challenge students to excel not only in their studies, but also in their personal growth. The IB aims to inspire a lifelong quest for learning hallmarked by enthusiasm and empathy. To that end, the IB gathers a worldwide community of supporters who celebrate our common humanity and who share a belief that education can help to build a better world. 
The IB connects this higher purpose with the practical details of teaching and learning. A global community of IB World Schools put these principles into practice, developing standards for high-quality education to which they hold themselves mutually accountable. An IB education represents a testament to the power of this collaboration. 
Education is an act of hope in the face of an always-uncertain future. An IB education calls forth the very best in students and educators alike. The IB believes that together we can help to prepare students for living and working in a complex, highly interconnected world.
CCFLA IBDP AUTHORIZATION PROCESS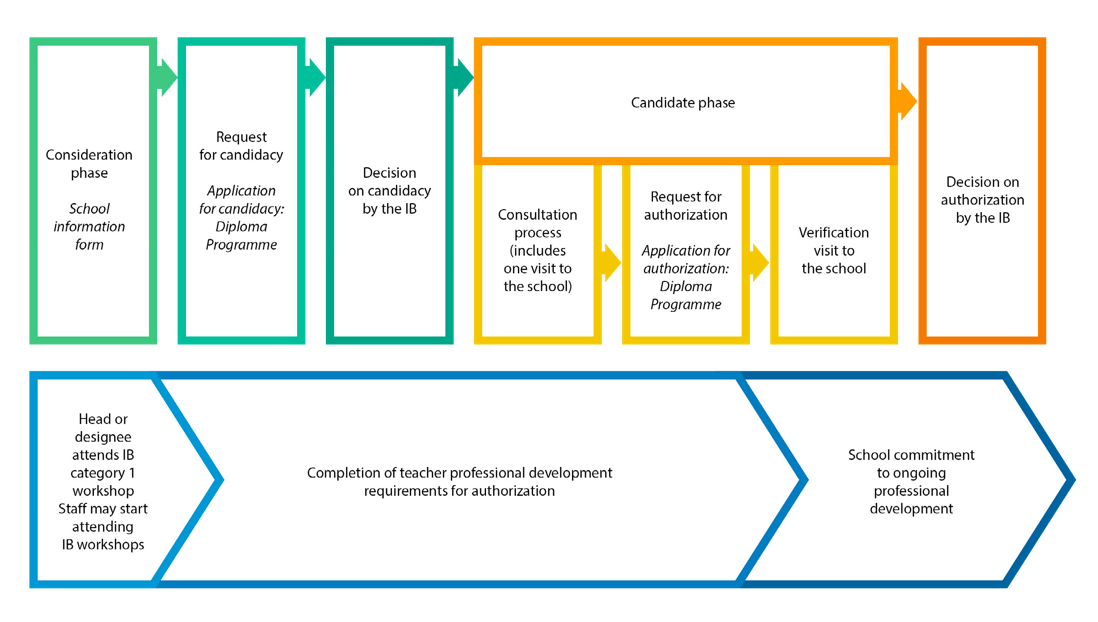 REFERENCES
The School Learner Handbook

School IB Team Policies (Learner Profile)
ibo.org